Frank Petersen, Rødmose Handel presents :
ClassicVehicleLog
An electronic Logbook for classic cars and motorcycles
<![if !vml]>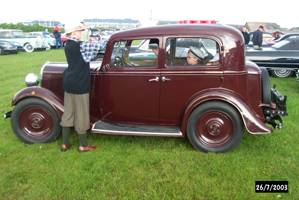 <![endif]>
The future :
Anyone that has good ideas or comments are more than welcome to contact me. I am very eager at improving this program to benefit all users.
On a little longer time span I have these ideas on the table :
<![if !supportLists]>1) <![endif]>'Open text' –
By this I mean, that I will put all texts OUTSIDE the program in a file with a well-documented layout. The idea is that there will be one text-file per language. Anyone will then be able to translate the texts form the program to German, Finnish or Swahili ! As soon as a new language file is produced, this new language will appear in the set-up screen.
If these translated files are send to me, I will publish them on this site, and the hope is that this program in this way will be translated to many languages.
<![if !supportLists]>2) <![endif]>A possibility of adding sound-files to a vehicle. Then the owner can hear the different sound in the long, cold winter !
<![if !supportLists]>3) <![endif]>To-Do events can be extended, so one can add check-boxes on every element in the to-do lists. By ticking these boxes one can indicate that this as been full-filled, instead on deleting it from the list.
<![if !supportLists]>4) <![endif]> At an event it should be possible to mark that this event 'resets' one of the periodic tasks that you have defined. Then you don't have to reset these manually !
<![if !supportLists]>1) <![endif]>Defining a encryption key, that will encrypt all or part of the data. You might want to encrypt price-information, so your wife can not see how much you have paid for your Jaguar or how much it costs in maintenance. Or you can encrypt key-numbers and registration-frame-number in case these data files gets into the wrong hands ! When you display the data, you will just have to type in the encryption key and the data will be readable again.
<![if !supportLists]>2) <![endif]>Export of a part of the data. For instance if you will attach it as an email or upload the data-file, it could be very nice to be able to do this on a selected amount of the data !!
7)      All ideas are received with gratitude !!!!