Frank Petersen, Rødmose Handel presents :
ClassicVehicleLog
An electronic Logbook for classic cars and motorcycles
<![if !vml]>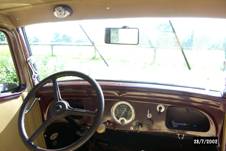 <![endif]>
This program was tried and given very good publicity by one of the leading Danish classical

magazines :

Klassisk

Bil

& MC

issue 12, 2007.
-Do you feel a need to, at last, get things under control ? Today, do you know the date of the last oil-change and lubrication you did, on you so much be-loved vehicle ?
-Are you sick and tired of all the small pieces of paper or post-it stickers, that disappears 2 minutes before you need the information these kept ?
-Do you have different word-documents and spread-sheets with a mix of information but need the big picture – The overview ?
-Spend 2 minutes here. It can be very well invested as it might solve your problems !
-This program was written by a person active in the classic scene in Denmark. I KNOW where the problems are !
-Suitable for all kind of vehicles : Cars, motorcycles, mopeds, tractors. Even your daily car !
-Runs under Windows XP eller Vista, screen resolution at least 1024*768