Frank Petersen, Rødmose Handel presents :
ClassicVehicleLog
En An electronic Logbook for classic cars and motorcycles
<![if !vml]>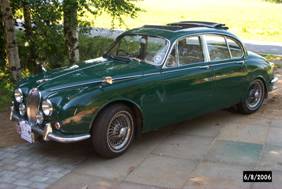 <![endif]>
ClassicVehicleLog can :
-        Control an unlimited number of vehicles.
-        Collects registrations of all thinkable basic-information about your vehicle. From registration number to engine data !
-        Give you the ability to register so-called "EVENTS". A MoT, a rally, an repair, the start or ending of the season; all these are events that you register as they occur.
-        Give you the ability to register the history of your vehicle with pictures and document that you have scanned in.
-        Make it possible for you to re-find events with their date, mileage, price, numerous pictures – even spare-parts used at repairs can be documented and re-found.
-        Give you OVERVIEW. As events are registered the program will automatically show details of the economy etc!
-        Give you the ability to define a number of "fixed tasks" with a text of your choice. By this is meant tasks, that are repeated at regular intervals based on mileage and/or a number of months. Like MoT or oil-change. The program will then show you in a status bar how close you are at the point in time for these tasks !
-        Make free-form searches.
-        Bring your favourite picture up as picture on the entrance-screen.
<![if !supportLists]>- <![endif]>Help you get details of fuel-economy.
<![if !supportLists]>- <![endif]>
Imagine that you are rebuilding your engine. You register an event with total-price, pictures of the process, and all used spare-parts. Including all your comments, that you type in, when you come back in from the shed. The joy of being able to anchor and re-experience these kind of happy moment are huge. Other people, that is about to do the same job, will guarantied be happy to see that event before they start.
It is also important to add, that indeed you are OBLIGTED to register and keep this kind of information. No matter how and when, a day will come when your vehicle is going on to a new owner, and for these it is invaluable to know what has been done and known about the vehicle. And if you don't care about the next owner, please consider that it will benefit your vehicle.